PROBLEM STATEMENT
After recently adopting a new kitten into the family, I noticed a lack of online platforms for local neighborhood pet owners to share useful information about pet-care and their own experiences.
SOLUTON
The PetBook app design was based on two main needs of pet owners/lovers: sharing useful information, and showing off pets. It has two main functions: the pet forum and pet timeline. The pet forum is for exchanging all kinds of information and the pet timeline is for documenting a pet's fun and colorful life. (Launch prototype here)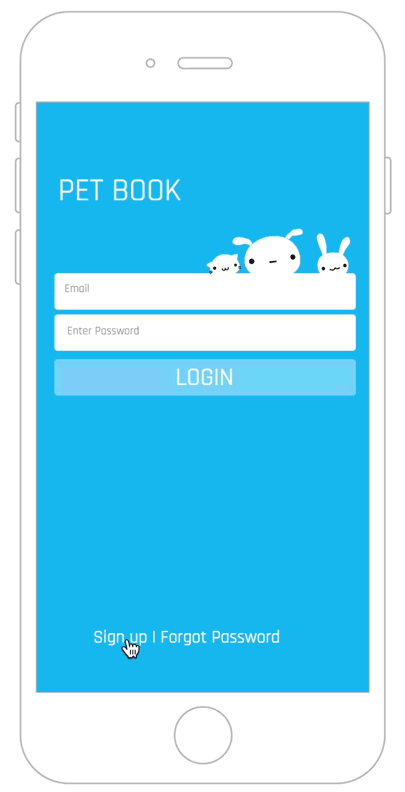 Sign-up & Pet Timeline
- Sign-up for more one or more pets
- Record a pet's life to the pet timeline
- View other user's pet timelines
- Communicate: like and comment
Pet Forum
- Create posts
- View posts
- Answer questions
- Sort & search posts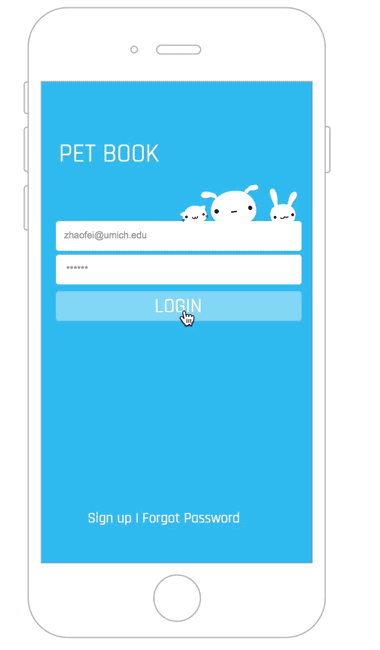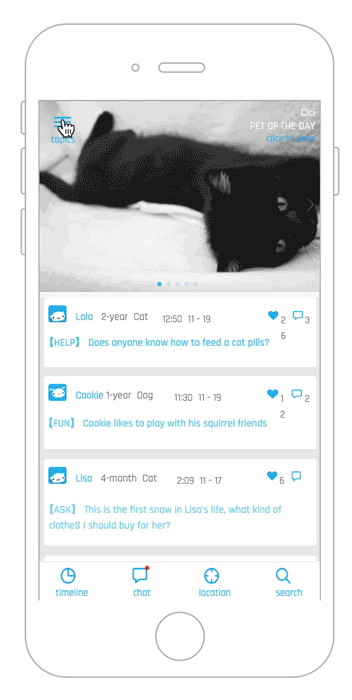 Pet Chat & Neighborhood Map
- Chat with other pet owners
- View chat history
- New chat notification
- View other pet's location
Target Audience
Pet owners who own one or more pets, neighborhood pet lovers but don't have their own, and staff of nearby pet-related businesses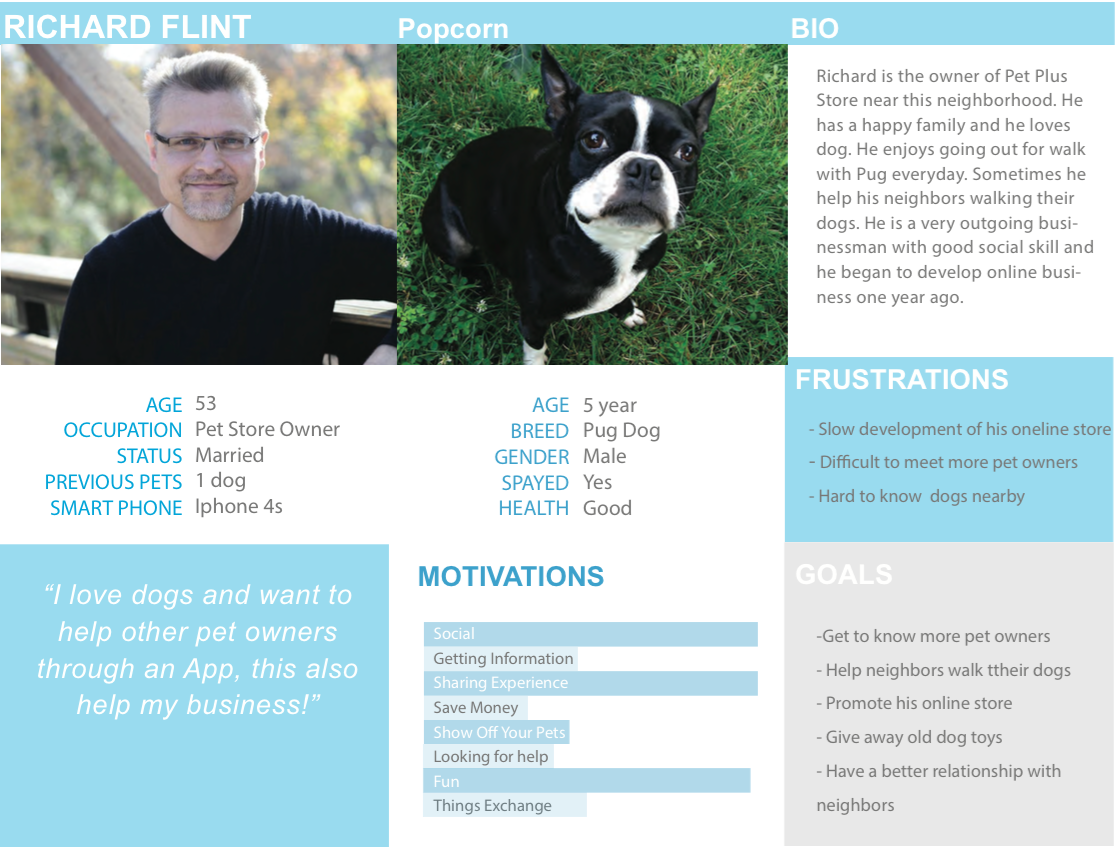 Personas & Scenarios
- Experienced pet owners
- New pet owners
- Staff of nearby pet-related businesses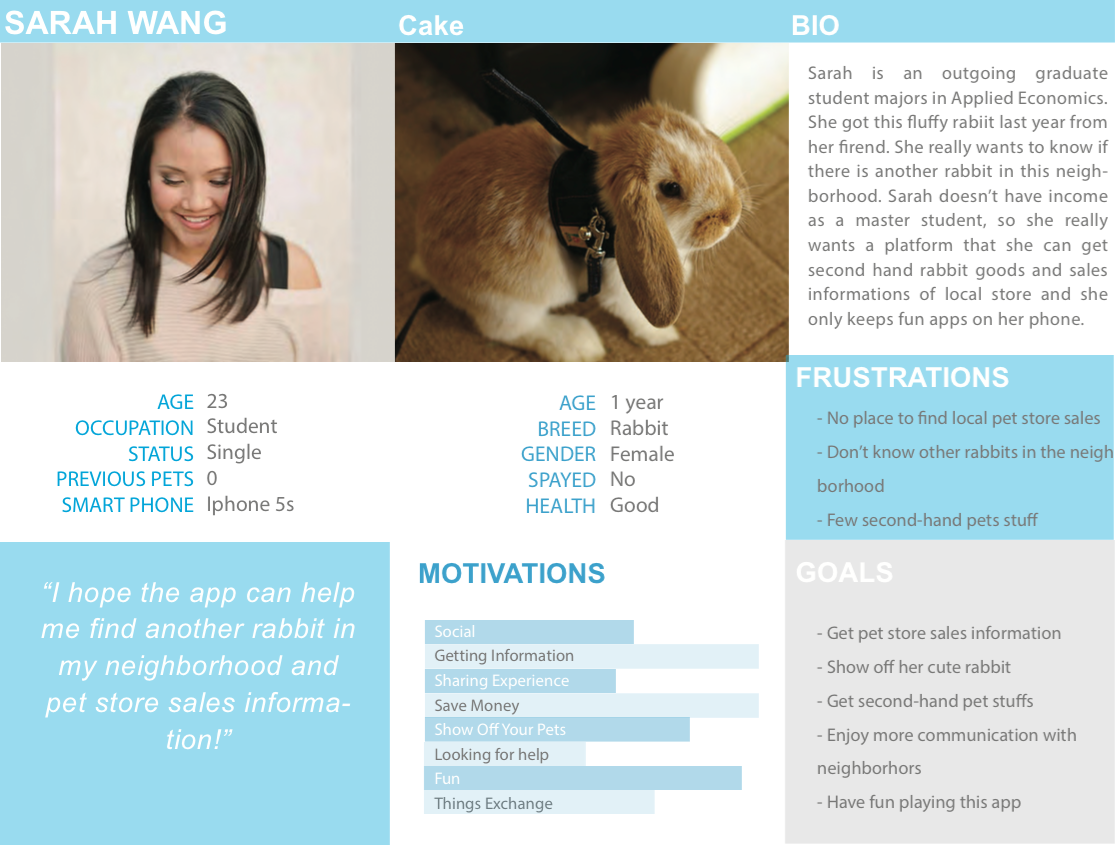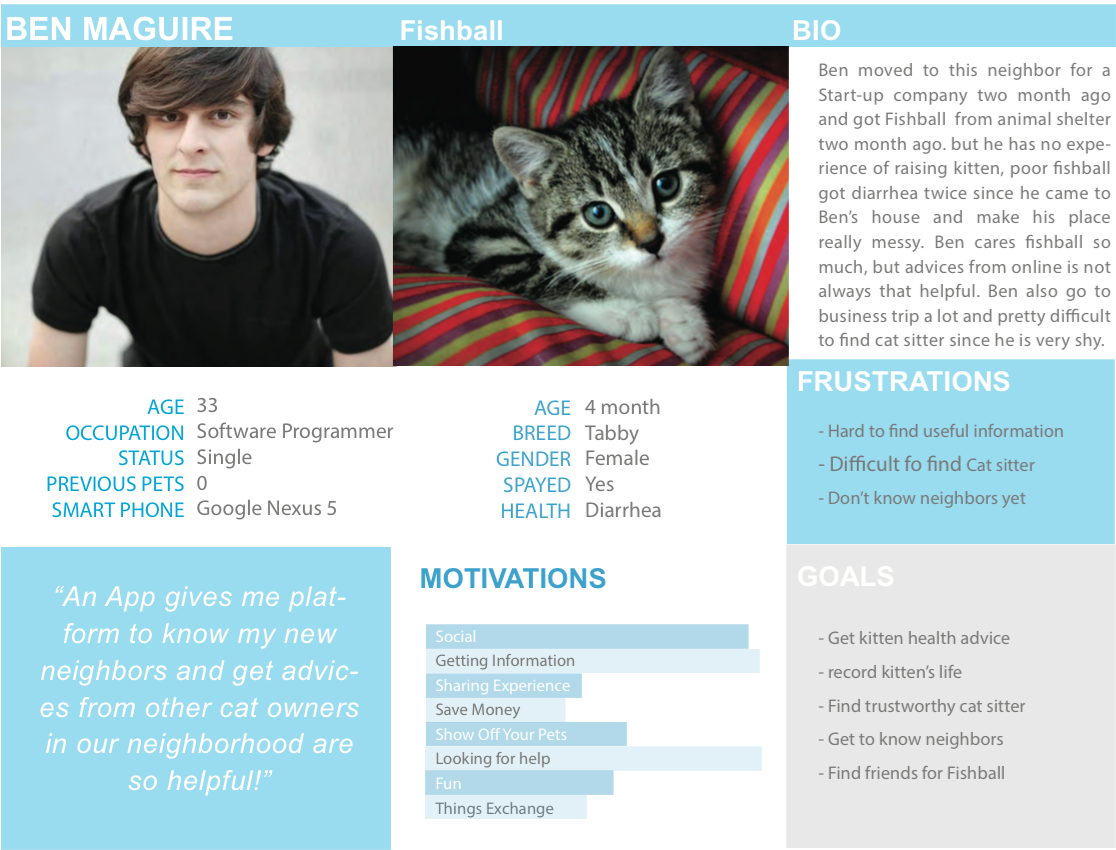 COMPARATIVE ANALYSIS
While doing competitive analysis research on these four websites and apps, I found that simpler and more organized websites/apps are more popular. To achieve simple and clean design, I decided to sacrifice some not so important functions.

STORYBOARD
After interviewing 5 local pet owners, I sketched out all the possible activities that a pet owner would want a PetBook app and figured out how to connect these activities with each other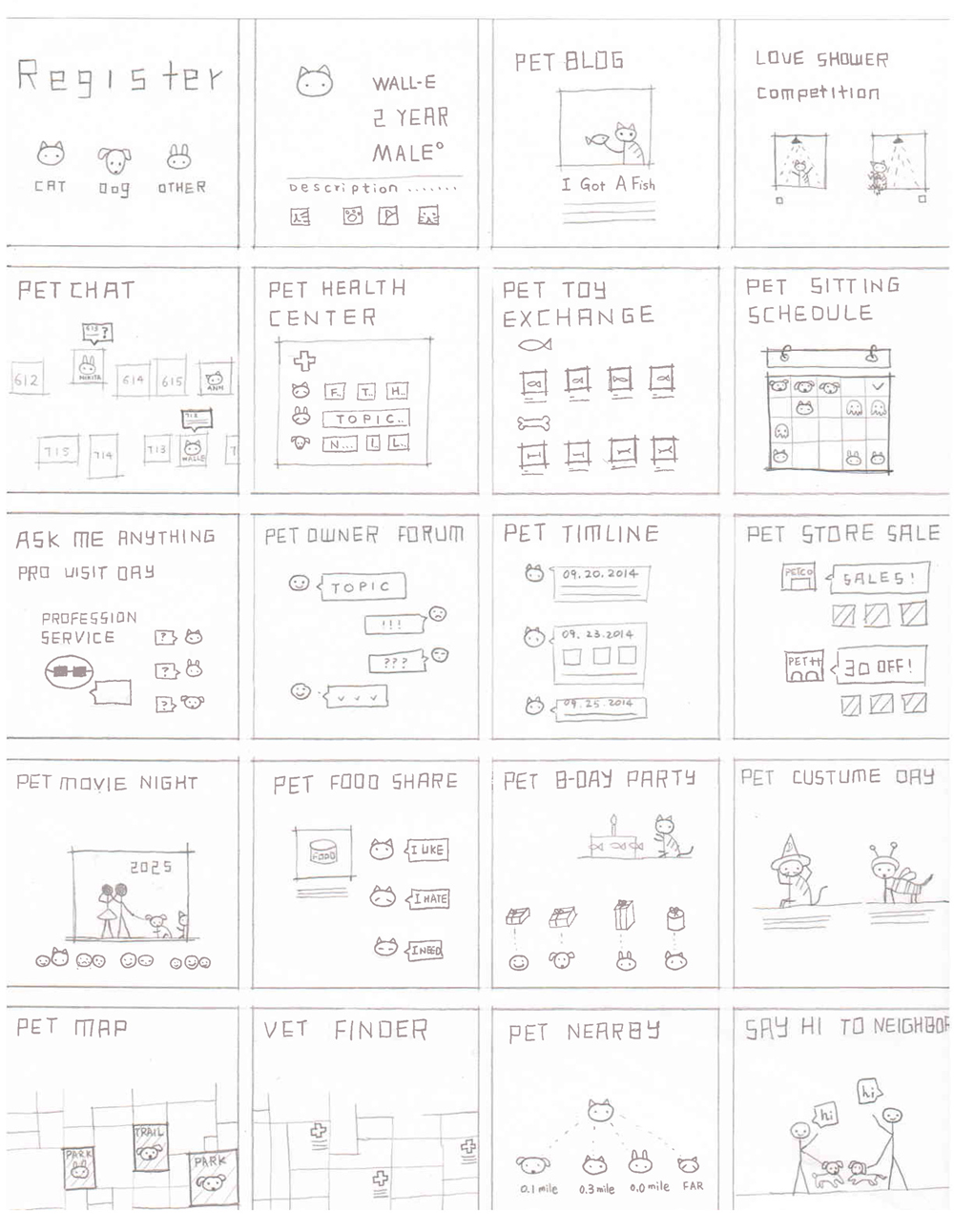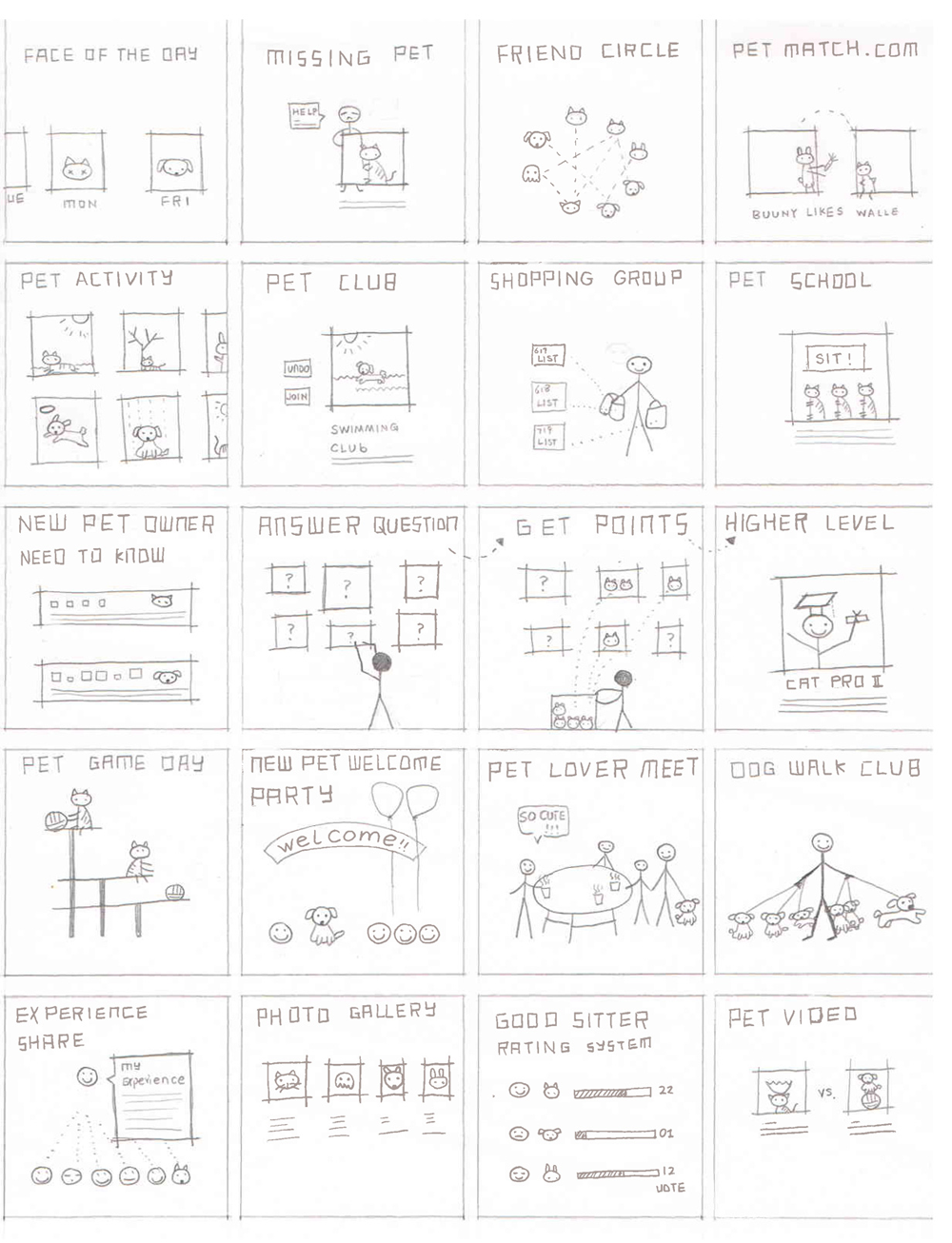 WIREFRAMING
Low fidelity wireframing using Balsamiq

Paper Prototye
I created a paper prototye of the app first and did usability testing with 3 pet owners with this paper prototype. After collecting feedback, I improved the prototype many times and then developed the digital prototype in Axure RP.
Description
PetBook is an online pet social network app that provides a convenient place for pet owners to communicate and help each other.

The critical feature of this application is pet information sharing. Pet owners, pet lovers and staff from pet-related businesses can all share useful advice about pets!
TYPE
Individual project
TIME
Sept 2014 - Dec 2014
METHODS
Interaction Design
Competitive analysis
Persona
Storyboard
Brainstorming
Wireframing
Paper Prototyping
Digital Prototyping
Graphic Design
TOOLS
DELIVERABLES